2018 SDMS Poster Presentations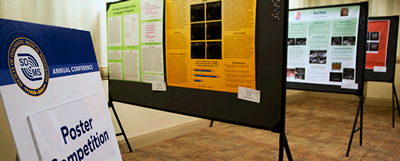 The Sonographer and Student Poster Exhibit Competition encourages sonographers and students to further research in the field and their own careers by creating poster presentations of findings in Original Research, Literature Review, or Case Studies.
New this year
For the first time in 2018, the SDMS is pleased to offer the opportunity to SDMS members to earn SDMS CME credit by reviewing the SDMS Poster Exhibit Competition posters and taking a post-test. Please use the links below to access the poster activities.
2018 SDMS Poster Presentation - Abdomen
2018 SDMS Poster Presentation - Bioeffects/Ergonomics/MSK
2018 SDMS Poster Presentation - Cardiac/Vascular
2018 SDMS Poster Presentation - Disinfection/Ergonomics/POCUS
2018 SDMS Poster Presentation - Interventional/Pediatric Sonography/Breast
2018 SDMS Poster Presentation - Instrumentation/Physics